New software to catch signs of cognitive decline earlier could help reduce the risk of dementia.
While studying for their PhDs at Cambridge University, Sina Habibi and his classmate Seyed-Mahdi Khaligh-Razavi often spoke about how dementia had touched the lives of their own families. "We felt that if our family members had been diagnosed earlier, their suffering and those of our families would have been less," Habibi says.
Thirteen years ago, inspired by such discussions, Habibi and Razavi started the Vancouver-based med-tech company Cognetivity Neurosciences to make cognitive tests more widely available and catch people with the earliest signs of dementia sooner. "Early detection of MCI [mild cognitive impairment] is important," Habibi says, "so that the condition can be effectively managed, and steps could be taken to reduce the chances of developing dementia."
A Lancet commission recently noted that up to 40 percent of dementias could be prevented or delayed by modifying lifestyle risk factors like high blood pressure, smoking, diabetes, obesity, exercise, diet, alcohol consumption, depression, social isolation, and exposure to air pollution. Half of the risk factors make their impact before the age of 65, and early detection could help steer people toward early interventions when they are most effective.
At Cognetivity, Habibi and Razavi developed an iPad-based app that uses artificial intelligence designed to detect early signs of mild cognitive impairment and other disorders in less than five minutes. Called the Integrated Cognitive Assessment (CognICA), the computerized test will be sold to providers for large-scale, remote, self-administered testing. In October 2021, CognICA was rated a class II exempt medical device to detect cognitive impairment by the U.S. Food and Drug Administration. (The rating allows the company to market the medical device for commercial distribution in the United States.)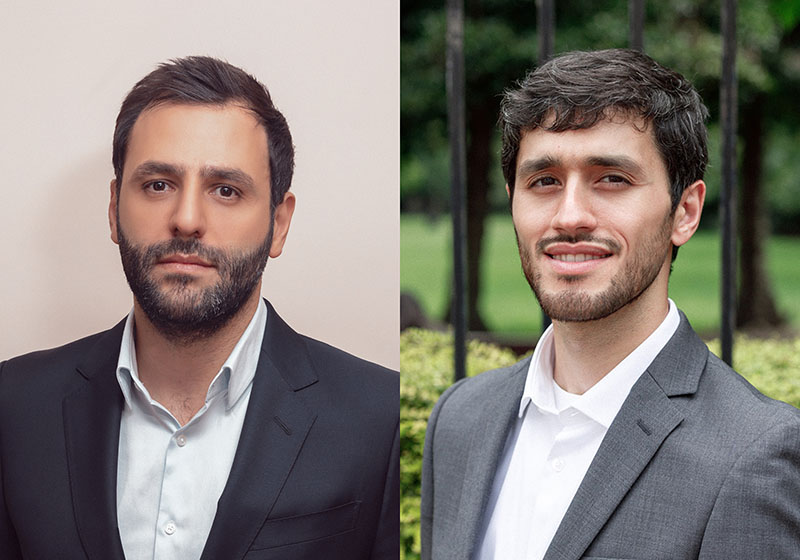 A company spokesperson said Cognetivity's tests are "primed" to become as common to mental health as blood pressure cuffs are to cardiovascular care. Whether or not their vision succeeds will depend on its acceptance by health care facilities, government organizations, and individual practitioners, as well as more research validating the algorithms. In September 2020, Cognetivity signed its first agreement for the deployment of the Integrated Cognitive Assessment through the U.K. National Health Service. And on June 2, the company signed an agreement with SEHA, United Arab Emirates' largest healthcare network, to use their test in a pilot program.
Bird, lion, brick house, fire hose
When taking the test, people are presented with 100 grayscale images, 50 animals and 50 non-animals, in rapid succession. They then categorize each of these accordingly as they were displayed and are given a score based on their speed and accuracy. The software detects subtle impairments in information processing speed, and the AI compares their reaction times to how others in their age group respond. This generates a crude measure that indicates how well a person's brain is functioning when compared to normal, mildly impaired, and severely impaired individuals.
"The screening results can help clinicians determine if a patient has [mild cognitive impairment] and can refer them for further testing, if needed, to determine whether the patient has dementia," says Habibi. (Mild cognitive impairment is the stage between the expected cognitive decline of normal aging and the more serious decline of dementia.)
"We are facing a pandemic of Alzheimer's disease."
"The human brain processes 80 percent of information visually," Khaligh-Razavi says. In an article published in the journal PLOS ONE, the researchers demonstrated that reduced visual processing speed is present in the early stages of mild cognitive impairment. As for the use of animal images, Khaligh-Razavi said, "humans react strongly to animal imagery, activating large areas of their brain. This is the 'fear or food' response, which goes back to the time when our ancestors hunted animals to survive."
There are several companies working on their own AI-powered dementia detection tests. Geisinger and Eisai are testing the use of an algorithm, known as a passive digital marker, on a set of de-identified patient data to pinpoint individuals likely to have cognitive impairment. Additionally, researchers at MIT have developed a digital pen plus speedy data analysis that improves on the classic clock test to detect cognitive impairment.
Commenting on the CognICA test, Paola Barbarino, the CEO of the London-based umbrella organization Alzheimer's Disease International, says she likes the fact that it employs visual tests, which are easily adapted to different cultures and languages and avoid biasing against individuals whose first language is not English. Nevertheless, Barbarino says, "[It's] a good example of how AI is making great strides in our area. We just wish more governments would be proactive and we have advocated for governments to provide cognitive tests for all over 50 years of age."
"Cognetivity's app comes at a crucial time as we are facing a pandemic of Alzheimer's disease," Barbarino says, pointing to a recent assessment from the University of Washington.
"The study estimates that 57 million people were living with dementia globally in 2019," Barbarino says, "a number expected to rise to 153 million by 2050."